Welcome to 2018 – All existing and incoming Parents and the Staff of Prouille School are members of the P&F.
This association is important and highly valued – a vital sector of the total school community. Prouille depends on the support of parents in assisting class teachers in many and varied ways: for example, Reading, Writing, Mathematics, Craft, Excursions, Sport, Computing and in the Library.
For 2018, our focus is on three key areas:  Community, Communications and Curriculum.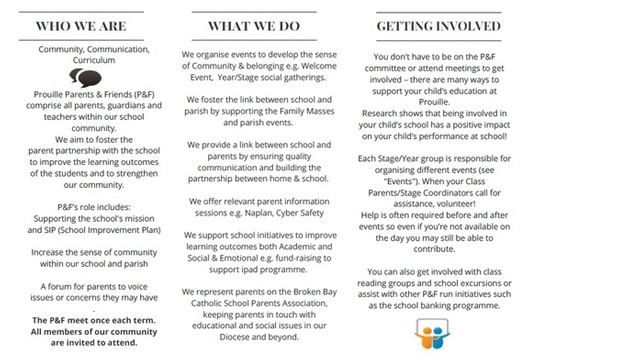 Various special events are held during the year for the children, including Healthy Lunch Days, Family Movie Night and the annual School Disco.
| P&F Committee for 2018 | |
| --- | --- |
| Co-Presidents | Emma McGrath & Warwick Kirby |
| Treasurer | Michelle Lee |
| Secretary | Sarah Ward |
| Diocese Council Representatives & Parental Engagement Coordinators | Michelle McGrath & Nicki Doyle |
| Parish Liaison Representative | Giovanna Flores |
| Stage Coordinators K-2 | Laura Munce & Gemma Comanos |
| Stage Coordinators 3-4 | Rosalie Wickham & Jo Jenkins |
| Stage Coordinator 5-6 | Yven Floresta |
| Social Coordinator | Ange Chappel |
P & F Key Events 2018
| Term 1 | |
| --- | --- |
| Friday 9 February | Welcome Afternoon Tea and Cake Stall |
| Wednesday 21 February | P&F General Meeting 7.30 pm Library |
| Saturday 24 February | Welcome Event Cocktail Party |
| Term 2 | |
| --- | --- |
| Friday 11 May | Mother's Day Breakfast |
| Wednesday 23 May | P&F General Meeting 7.30 pm Library |
| Monday 25 June | Athletics Carnival |
| Term 3 | |
| --- | --- |
| Wednesday 1 August | P&F General Meeting 7.30 pm Library |
| Friday 31 August | Father's Day Breakfast |
| Term 4 | |
| --- | --- |
| Wednesday 7 November | P&F AGM 7.30 pm Library |
| Friday 9 November | School Disco |
| Wednesday 12 December | Year 6 Graduation Dinner |
2018 Term 2 P&F Presidents Report
2018 Term 1 P&F Presidents Report
What is happening with SES Funding 2018 - P&F Update