Pastoral Care at Prouille Catholic School is concerned with promoting the academic, social, emotional, spiritual and physical wellbeing of all students. As a KidsMatter school we actively pursue these elements for the benefit of students, staff and families.
It is the cornerstone on which we build the strong and positive relationships which typify our Prouille community. It puts into practice, on a daily basis, the sentiments expressed in the school's Mission and Vision Statements and by doing so, helps the school to attain its objectives.
Members of the school community share a belief in the value of each individual student and are committed to working with students to produce love of learning and self respect in a Christ-centred community.
Prouille Catholic School was founded in the Dominican tradition, and the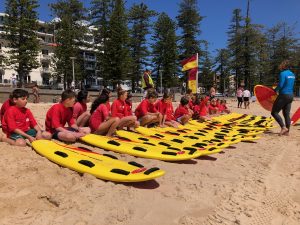 values and charisms that St Dominic promoted are embedded into our Mission and Vision Statements. The Student Discipline Policy is underpinned by the values important at Prouille Catholic School such as a safe, nurturing environment, respect for people and property, tolerance, compassion and pride in the school.
In all that we do at Prouille Catholic School we aim to develop confidence and competence in our students and encourage a real connection to their school and their community. These strengths allow them to face challenges in a positive and resilient manner.
Student Wellbeing at Prouille
Be You is a mental health and wellbeing framework for primary schools and is proven to make a positive difference to the lives of Australian children. It provides the methods, tools and support to help schools work with parents and carers, health services and the wider community, to nurture happy, balanced kids.
Be You is a whole-school approach to improving children's mental health and wellbeing. It is founded on respectful relationships and a sense of belonging and inclusion.
Be You aims to transform Australia's approach to supporting children's and young people's mental health in early learning services and schools, from early years to 18.
social and emotional learning
working authentically with parents, carers and families
support for students who may be experiencing mental health difficulties
Research clearly shows that children who are mentally healthy are better able to meet life's challenges. They are also better learners and have stronger relationships. Good mental health in childhood lays the foundations for the future.
Social and emotional skills are very important skills for children to develop at an early age as they help orientate our mental well-being throughout life.
Student Voice: SRC and Peer Support
At Prouille, we value the importance of student voice. We have a very active Student Representative Council who have been involved in some key decisions around playground re-design, school rules, policy input, student surveys and Wellbeing Week initiatives.
The SRC is made up of students from K-6, with our Year 6 representatives being SRC Executive Members. The students from K-5 belong to the SRC for a Semester, before enabling someone else in their class to be peer voted. The students also help promote our PBL focus and lead assemblies on a Monday morning.
Another component of Student Voice is Peer Support. This initiative enables our senior students to plan, prepare and deliver a purposeful lesson each week over a three or four week period each term. These lessons are delivered to their group which consists of students from K-5. The focus and purpose for these lessons reflect an SEL skill. So far, the senior students have delivered lessons that have focussed on: recognising emotions, regulating our emotions, effective strategies for managing emotions and making responsible decisions.
Helpful Websites for Parents
The following are helpful websites for parents regarding Pastoral Care and Wellbeing:
Be You
Youth Beyond Blue
Parent Tool Kit
Kids Helpline
Bullying No Way
Positive Behaviour for Learning 
At Prouille we have adopted a proactive and responsive approach to supporting student behaviour and learning. Our PBL (POSITIVE BEHAVIOUR FOR LEARNING) whole school approach is adapted from the PBIS (Positive Behaviour Intervention Support) system and has an emphasis on teaching children what behaviours are expected and then supporting them to be successful with these behaviours.
There are three school rules which the children know and understand: At Prouille we are Respectful, Responsible Learners.
These three rules are each supported by more specific behavioural expectations that include we are fair and just, we make good choices, we show a positive attitude, etc.
The behavioural expectations are taught in a variety of contexts across the school and children are given opportunities to use and practice these behaviours.
PBL Scope and Sequence 2016
Primary School Counselling: Information for parents